Karaoke Rental for a Home Party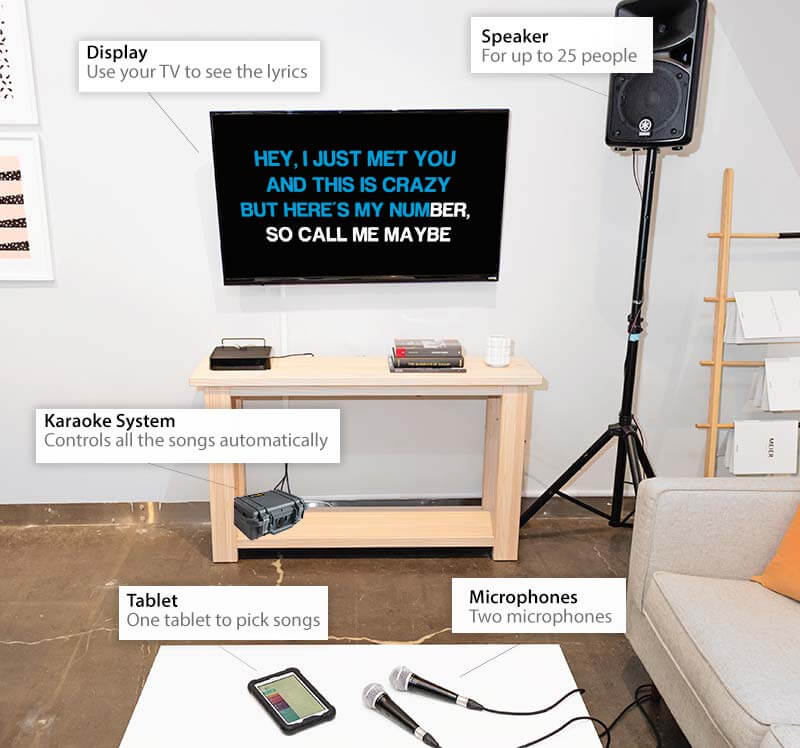 Our home karaoke machine is perfect for living room or basement parties
Our easy to use tablet-based karaoke system makes it extremely easy for you and your guests to have a great party
Use our speakers with your phone, iPod or MP3 player to listen to your own music when you aren't karaoke'ing.
No screen is included. Use the included HDMI cable to use your television or a projector as a display, you can also add a 22″ screen to your reservation
This home karaoke machine is only for party's in private households
How Long?
Party as much as you want! We'll deliver the karaoke machine a few hours before guests start arriving and pick it up the next day
Tablets
One tablet is included with the basic system, two with the Superstar. The tablets are used to pick songs and build a playlist, it is ridiculously easy to use: you can search, sort, filter, see Top Songs by year or genre, etc!
Display
No display is included, use your television to read the lyrics with the included HDMI cable
Microphones
Two professional wired microphones
Speakers
Our high-quality speaker system is powerful enough for a party of up to 20 guests
Party Light
Our Superstar system includes a party light to give a fun atmosphere to your party
Upgrades
if you don't have a TV available you can add a 22″ screen to you rental. You can also rent a laser light.
Installation
Installation and delivery is included in our free delivery zone, enter your postal code
on our booking page
to see your delivery fee
Join Thousands of Satisfied Clients
We've had the pleasure of sharing our karaoke with birthdays (sweet sixteens, 30ths, 80ths and everything in between), weddings, baptisms, anniversaries and just plain old house parties.
"Awesome time with the family. Equipment installed in less than one minute. Everything worked perfectly with a huge song list. Speakers were awesome!!!"
Clarissa Pedroso
Who rented karaoke for an Airbnb party
"My wife surprised me by throwing a 30th birthday party for me and the karaoke was incredible! It was a hit all night with my family and friends. Amazing and lots of music genres to choose from and the sound quality of the speakers was top notch. Very good service setting up as well. Will definitely recommend for parties of any occasion!"
David Nguyen
Who was surprised by karaoke!
"It was absolutely amazing ! Sean and his partner showed up on time, communication was A1. The setup was done quickly. We took the Corporate setup; It was awesome ! We didn't think that the karaoke would be more popular then the dance floor. Amazing song library. I will honestly do business with them again in the future ! Merci !!"
Hajoura Blehh
Who had a great Christmas office party
"We rented from Toronto Karaoke for our 1 year anniversary event. It was a total success! The delivery, set up and communication about drop off times and pick ups was great. It was super easy to use to use and took no time to figure out how to cue up the songs. The speaker quality was excellent and we had a blast! Thanks!"
Monica Dawson
Who had a karaoke anniversary!
Frank
Frank rented Karaoke at his 30th birthday party and couldn't have had more fun!